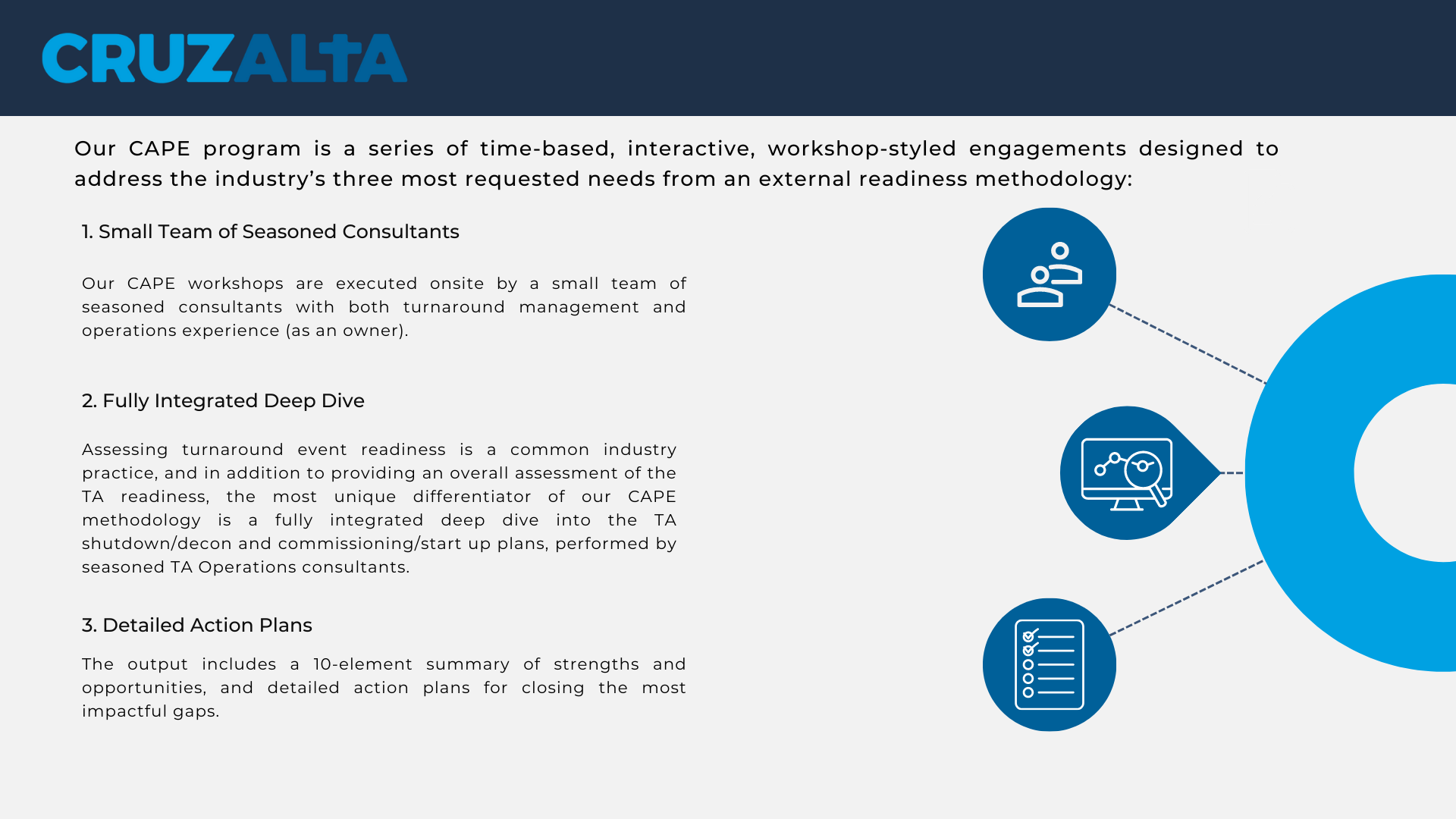 A Craftsman Toolbox: CruzAlta's Turnaround Management Consulting
CruzAlta's Turnaround (TA) Management consulting program is quickly gaining industry attention because of its' "hands-on" approach. Our clients' TA challenges are diverse, complex, and culturally unique, which is why CruzAlta's TA Management program is more synonymous to a craftsman toolbox that can be used to solve a variety of challenges versus an "out-of-the-box" kit designed for single application.
This set of hands-on tools includes a detailed, comprehensive TA readiness methodology, known as the "CAPE" program, an evergreen set of workshops designed with specific and focused objectives to efficiently solve, strategize, detail out, brainstorm and/or build a path toward a solution that can be effectively handed off to the client for implementation. The most adaptable tool is our TA Management coaching.
Our CAPE program is a series of time-based, interactive, workshop-styled engagements designed to address the industry's three most requested needs from an external readiness methodology:
1. It is executed onsite by a small team of seasoned consultants with both turnaround management and operations experience (as an owner).
2. Assessing turnaround event readiness is a common industry practice, and in addition to providing an overall assessment of the TA readiness, the most unique differentiator of our CAPE methodology is a fully integrated deep dive into the TA shutdown/decon and commissioning/start up plans, performed by seasoned TA Operations consultants.
3. The output includes a 10-element summary of strengths and opportunities, and detailed action plans for closing the most impactful gaps.
Since inception, one of our most valued consulting tools is TA Coaching. Unlike more typical forms of consulting, CruzAlta's TA Management consulting is delivered by seasoned practitioners who have personally performed the TA Manager role as owner operators AND are motivated to further improve "the industry they've grown up in." Our consultants are professionally minded hands-on people who are truly interested in helping our clients' along the learning and improvement journey. The most common feedback from clients about our TA Management coaching is the ease of leveraging the deep experience of our team as part-time "surgical" additions to their team.
Our coaches work closely with the site TA Team, but also interface regularly with other site functions and with site leadership. In addition to providing real-time coaching and guidance on specific TA challenges, this experience augmentation approach is also designed to build capability within the site organization, facilitate and engage in the TA preparation, and help the site achieve a state of sustained performance. CruzAlta's TA Coaches actively guide, mentor, teach, intervene, and escalate as necessary, but do not disrupt nor override the site organization structure nor decision hierarchy, nor do they assume the TA Manager's authority. CruzAlta's TA coaches organically engage in all elements of TA preparation and execution, including Long Range Planning, Organization Planning, TA Premise Scope Management, Controls, Work Planning and Scheduling, Operations Preparations, Contracting, Procurement, Technical support, Project Integration, EHS Plans, Assurance, Past TA Lessons, Risk Management, Constructability reviews, scope and execution challenges, Logistics, etc.
For more information, contact us.
RELATED ARTICLES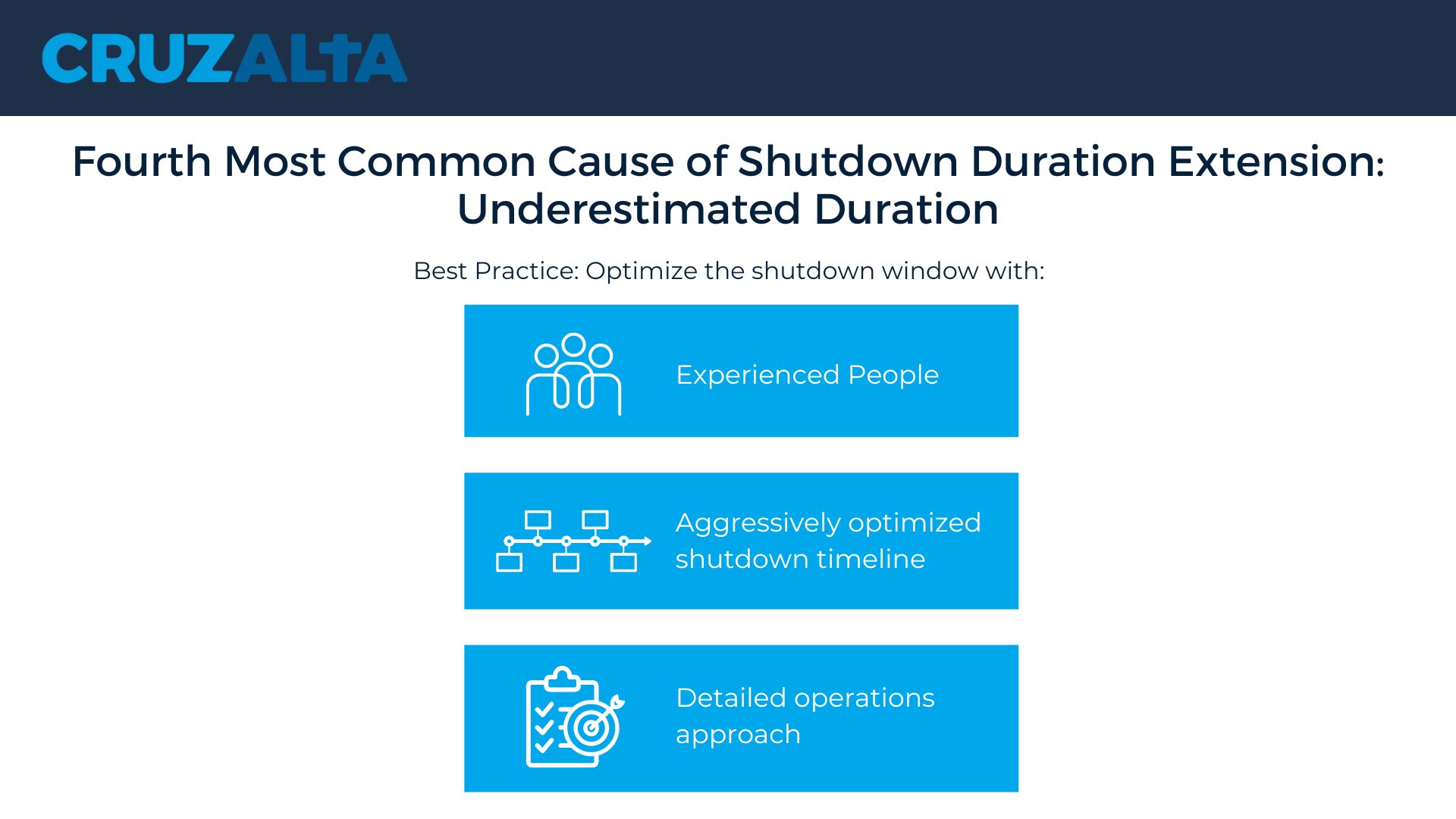 Underestimated Duration is the fourth most common cause of shutdown timeline extension. Unlike the...
READ MORE →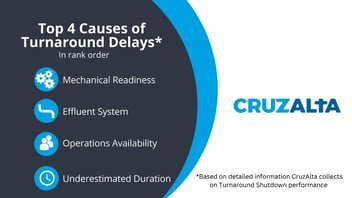 Turnaround failures are an unfortunate fact of life for many refineries, and no one wants to...
READ MORE →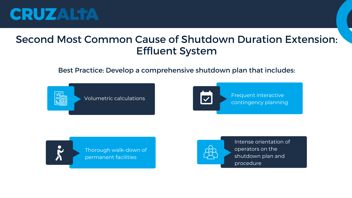 In our previous blog, we introduced the top four turnaround delays and more deeply explored the #1...
READ MORE →